International Cooperation Agreement between Malta and Moldova
International cooperation - IDPC and National Center for Personal Data Protection of the Republic of Moldova sign Cooperation Agreement
Press release
Brussels, 18 November 2021
Malta's Information and Data Protection Commissioner Mr Ian Deguara and his Moldovan counterpart Director Eduard Răducan, have today signed a cooperation agreement.
Malta and Moldova are both signatories to the Convention 108 of the Council of Europe, which is an international instrument regulating the protection of individuals with regard to personal data processing. However, the two authorities took the opportunity to strengthen their bilateral relations by means of a cooperation agreement to foster closer collaboration.
The National Center for Personal Data Protection was founded in 2007 as an independent regulator responsible for monitoring compliance with Moldova's data protection law.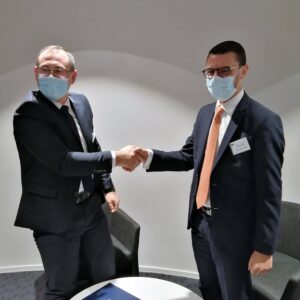 "The Center is interested to hear about our three years' experience in enforcing the GDPR, and we are motivated to get acquainted with the Center's best practices. We have a lot to learn from each other and we are eager to start our cooperation activities" says Commissioner Deguara.
The activities foreseen by the agreement include exchange of information on enforcement activities, mutual professional development and training, organisation of study visits and workshops, with the exclusion of the exchange of personal data.